Getting the catering right and making sure you provide food that will satisfy all of your guests is always such a big part of planning any event. If you want a memorable meal your guests will love and delicious freshly made dishes for any occasion, the Hog Roast Lichfield team are able to provide it. Hog Roast Lichfield offer cost-effective, versatile and high-quality mobile catering services for any occasion. If you have guests with different dietary preferences and tastes to accommodate, we also have plenty of other flavoursome dishes to choose from in addition to our gourmet hog roasts.
A Lichfield hog roast will not only provide your guests with sumptuous food but also a unique and entertaining dining experience. Thrill and delight your guests with a large mouth-watering hog slowly spit roasting before them. In addition to delicious food and an enjoyable dining experience like no other, a well-catered event is essential to the success of any special occasion.
We are very proud of the quality of our ingredients and our catering methods, and we love sharing our passion for hog roast catering with our diners. Our sociable team always enjoy chatting to everyone as we serve up our delicious food, and if you want a great ambiance as well as a lovely meal for your event, hiring the Hog Roast Lichfield team is the answer!
Hog roast event catering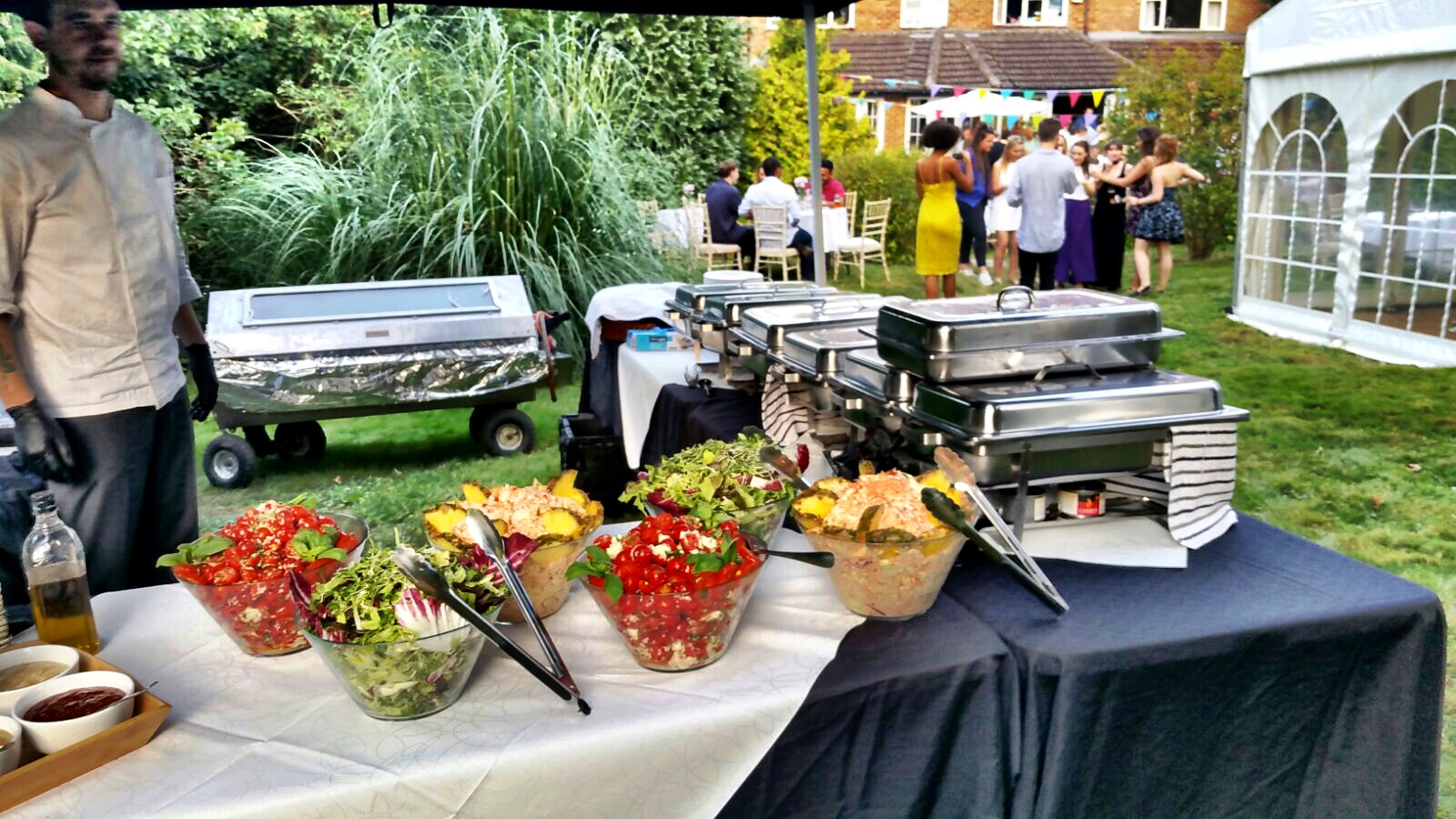 We can offer you complete catering solutions for any event in Lichfield. Our versatile and streamlined catering equipment can be set up just about anywhere, and in addition to providing an unbeatable centrepiece for your event in the form of a perfectly cooked hog, we are able to rustle up a whole host of varied side dishes, accompaniments, starters and desserts. If you prefer, we can supply an alternative meat too, such as beef, lamb or whole roasted chicken.
We can cater to an excellent standard for events of all sizes and we offer extremely diverse catering packages to suit all budgets, tastes and occasions. Our food is just as well suited to smaller events and more formal celebrations as it is to larger and more relaxed gatherings.
All of our food is made from scratch on-site using the finest locally sourced produce, and we are able to create vibrant dishes that look as good as they taste. We can provide superior freshly made buffets and 3 course meals for any occasion, including weddings, corporate entertaining and private parties.
Why Choose Hog Roast Lichfield
We feel really lucky that our catering company – Hog Roast Lichfield are able to operate and provide great food in such a fantastic city. Although small in size, Lichfield has been host to some of the biggest and most successful events we have catered for. We have catered for the likes of weddings, parties, christenings and business and corporate events in the Lichfield area, as well as some more unique and unusual events along the way such as charity fundraisers and school fairs.
Like our name suggests, the Hog Roast Lichfield team are specialists in the cooking method of spit roasting. For those who don't already know, this traditional and well established method of cooking dates back hundreds of years and involves roasting a whole meat (traditionally a whole pig) for several hours over flickering hot flames, carefully turning the meat to ensure we achieve mouth-watering results each and every time. What better way to provide phenomenal food and an impressive centrepiece for your event!
Organise your very own Lichfield hog roast extravaganza
Hog Roast Lichfield Machine Hire is the ideal solution for catering at your event or party to cook your food to catering standard yourself With just a little training anyone can take on the massive task of cooking a whole hog or side of beef and ensuring that it is done to perfection because, with the latest slow roast machines, the meat is practically cooked for you.
Just as if we were catering for you, we will provide you with the package that suits your needs and your budget, whatever you need, and, if you get particularly attached to our slow roast machine, we can even include part of the cost of the hire in the cost of selling the machine on to you. As if that weren't enough we will also deliver the hog roast machine to your door and collect it when you're done, which can be in as long or little time as you choose.
Catering costs will vary depending on the number of guests you are catering for. Call us today and we can help you set up a unique hog roast catering experience for your event in Lichfield – and for a price that you can afford.